CLANK
Cabinet H925
クランク キャビネット H925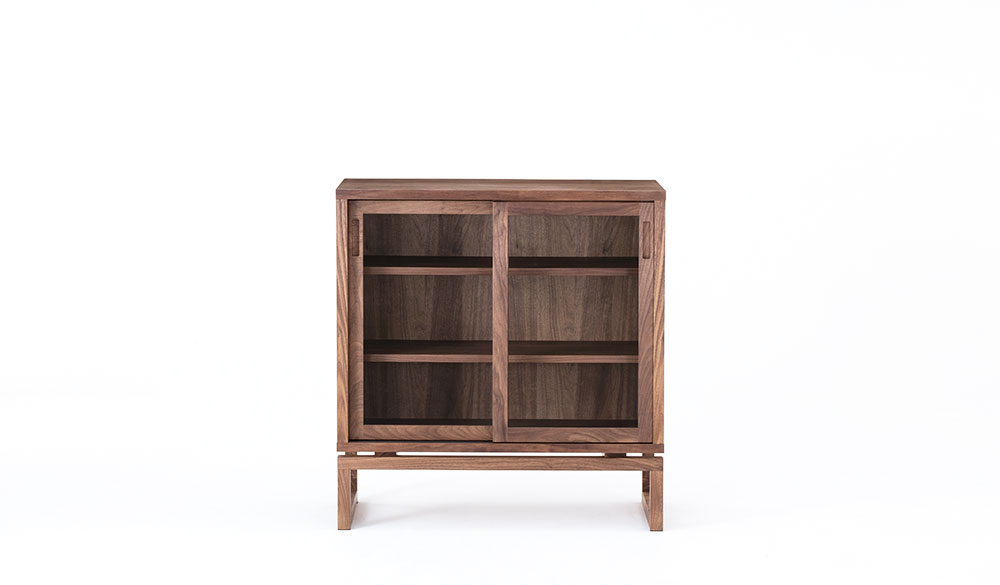 しっかりと魅せながら収納できる。コンパクトなキャビネット。
小ぶりなサイズ感で、一人暮らしにぴったりなベーシック収納。ガラス戸タイプは収納物をひと目で確認でき、圧迫感のない印象になります。お気に入りのオーディオやワイヤレススピーカーなどの機器類を入れても操作が可能、インテリアの一部としてデザインを楽しめます。
2枚の可動棚は、11段階で調整でき、収納物に合わせて細やかな整理が可能です。
Secure and attractive storage. A compact cabinet.
The small size of this basic storage unit makes it ideal for single occupancy. The glass doors make it easy to see what's inside without feeling overwhelmed. The glass door also makes it easy to control your favourite audio equipment, wireless speakers and other devices.
The two movable shelves can be adjusted in eleven positions, allowing you to fine-tune them to suit your storage needs.
SIZE SIZE
W887×D420×H925(mm) W887×D420×H925(mm)
TREE SPECIES TREE SPECIES



ウォールナット

Walnut




ハードメイプル

Hard Maple




オーク

Oak
PRICE PRICE
オーク
¥139,700

ハードメープル
¥148,500

ウォールナット
¥148,500

---
※運賃別、税込価格となります。 ※写真と実物の色味に違いが生じる場合があります ※価格・仕様など予告なく変更する場合がございます。あらかじめご了承ください
Oak
¥139,700

Hardmaple
¥148,500

Walnut
¥148,500

---
※Prices include tax and do not include shipping charges. ※There may be a case where the color of the photograph and the real thing are different ※Price and specifications are subject to change without notice.
ダイニングテーブル

Dining Table

リビングテーブル

Living Table

スツール&ベンチ

Stool&Bench

テレビボード

TV Board

ソファ

Sofa

キャビネット

Cabinet

チェスト&シェルフ

Chest&Shelf

デスク

Desk

ベッド

Bed

ネコ家具

Cat furniture

その他

Other