Kamille
Book shelf
【カミーユ ブックシェルフ】
絵本から雑貨まで。好きなものを飾る&しまうシェルフ。
細々したものをしまう引出しは大人の目線に。子供の絵本や大きめの雑誌をたっぷり収まる棚は下段に。そして真ん中には楽しい思い出や季節のアイテムをディスプレイ。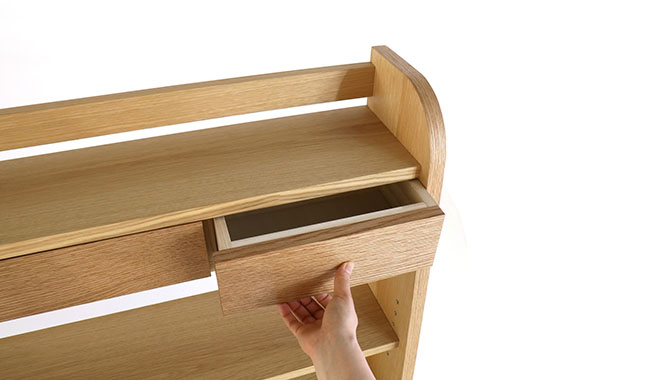 上段には3つの小引出し。小さなものをきちんと整理。その下は可動棚、6段階から調節できます。




絵本やおもちゃなど、子ども専用スペースとしても。


From picture books to miscellaneous goods. Shelves to decorate what you like.
Drawers that put small items become adults' Line of sight. Lower shelf, There are  enough space that can fit a lot, such as children's picture books and large magazines. And in the middle, display the items of fun memories and seasons.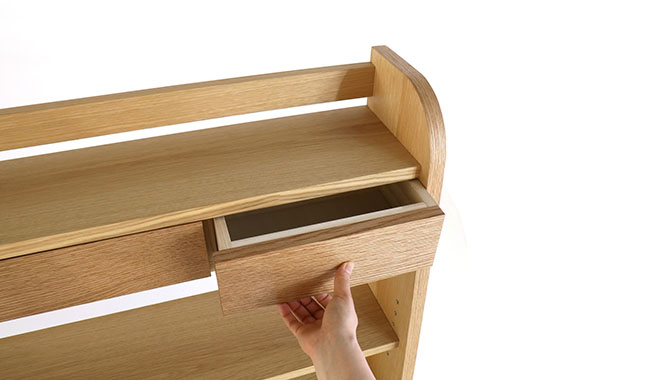 There are three small drawers in the upper row. Organize small things properly. There is a movable shelf below, you can choose from 6 levels.111




It is also good as a child-specific space such as picture books and toys.



W800・950×D300×H1300(mm) W800・950×D300×H1300(mm)

ウォールナット
ホワイトオーク
※オイル仕上げ
Walnut
White Ork
※Oil finish



ウォールナット

Walnut




ホワイトオーク

White Oak


W800 ¥87,400
W950 ¥118,000
---
※すべて参考価格、税別・運賃別 ※写真と実物の色味に違いが生じる場合があります ※価格・仕様など予告なく変更する場合がございます。あらかじめご了承ください
W800 ¥87,400
W950 ¥118,000
---
※All reference price, Not include taxes and fares. ※There may be a case where the color of the photograph and the real thing are different ※Price and specifications are subject to change without notice.


ダイニングテーブル

Dining Table

リビングテーブル

Living Table

ダイニングチェア

Dinning Chair

スツール&ベンチ

Stool&Bench

テレビボード

TV Board

ソファ

Sofa

収納

Strage Rack

ベッド

Bed

その他

Other