Liage II
Cabinet
リアージュII キャビネット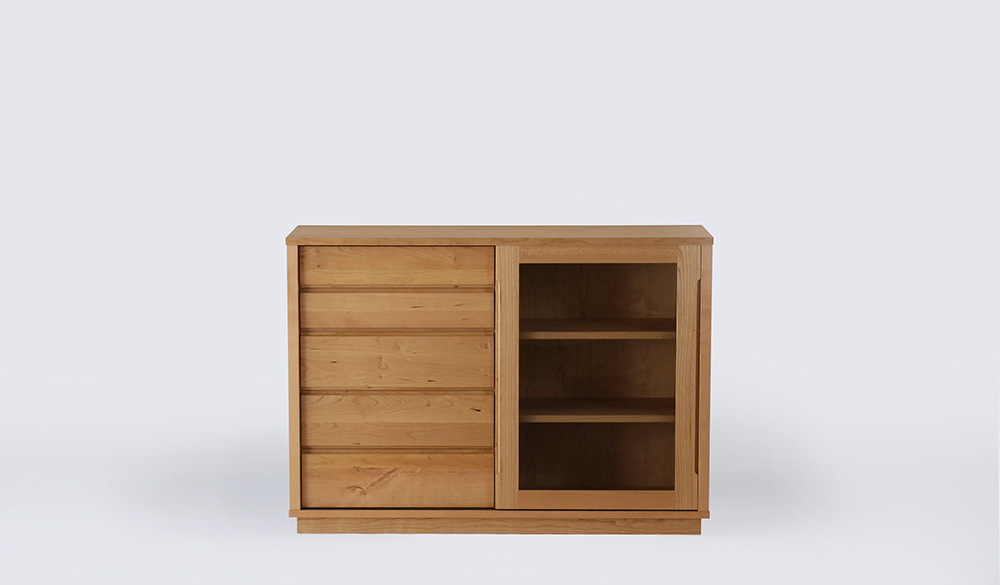 大らかな木目と、好きなもの。両方を上手に楽しむ。
5段の引出と横スライドの扉、可動棚が2枚付いたシンプルなキャビネットです。物が増えがちなリビングをすっきりとまとめます。寝室、キッチンのサブ収納にも程よいサイズです。
天板、引出の前板、戸枠もすべて無垢材。手触りの良さも魅力です。

Calm woodgraining and favorite things, Enjoy both well.
It is a simple cabinet with 5 drawers and horizontal slide doors, 2 movable shelves. It will tidy up at living room where things tend to increase. The bedroom, the sub-storage of the kitchen is also just fit in size.
The top board, the front board of the drawer, the door frame are all solid wood. The good touch is also attractive.

SIZE SIZE
W1200×D410×H850(mm) W1200×D410×H850(mm)
TREE SPECIES TREE SPECIES
ウォールナット
ブラックチェリー
ナラ
※オイル仕上げ
Walnut
Blackcherry
Ork
※ Oil Finish



ウォールナット

Walnut




ブラックチェリー

Blackcherry




オーク

Oak
PRICE PRICE
ホワイトオーク ¥164,780
ブラックチェリー ¥164,780
ウォールナット ¥ 173,140
---
※運賃別、税込価格となります。※写真と実物の色味に違いが生じる場合があります ※価格・仕様など予告なく変更する場合がございます。あらかじめご了承ください。
Whiteork ¥164,780
Blackcherry ¥164,780
Walnut ¥173,140
---
※Prices include tax and do not include shipping charges. ※There may be a case where the color of the photograph and the real thing are different ※Price and specifications are subject to change without notice.
ダイニングテーブル

Dining Table

リビングテーブル

Living Table

スツール&ベンチ

Stool&Bench

テレビボード

TV Board

ソファ

Sofa

キャビネット

Cabinet

チェスト&シェルフ

Chest&Shelf

デスク

Desk

ベッド

Bed

ネコ家具

Cat furniture

その他

Other