Liage II
High Chest
リアージュII ハイチェスト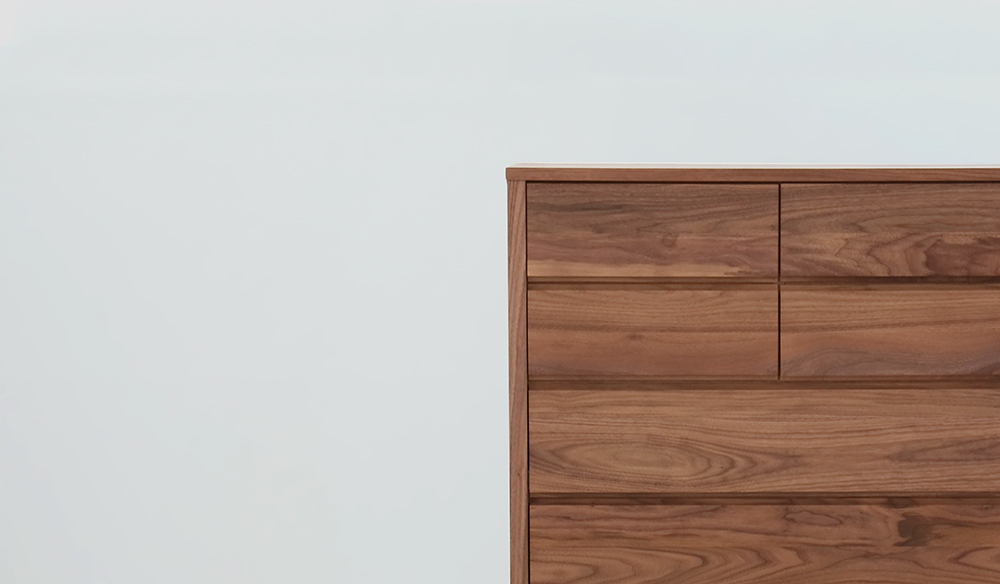 ウォールナットが落ち着いた空間を演出します。
横に木目が通ったハイチェストです。手掛けもシンプルに、無垢の木目が優雅な時を感じさせます。細々したものをしまえる引出が4杯。大きめの4杯には、たっぷり納めても楽に引き出せるようレール付です。
下4段はすべてスライドレール仕様。たっぷり収納で重くなっても軽く引き出せます。
Walnut directs space calm.
It is a side chest that passes through the horizontal grain. The handlings are simple, the wood grain is elegant. 4 drawers that can make small items. For the 4 large drawers, it is with a rail so that you can easily pull it out even if you put in a lot.
The lower four stages are all slide rail specifications. Even if it becomes heavy in plenty storage it can be use lightly.

SIZE SIZE
W900×D450×H1310(mm) W900×D450×H1310(mm)
TREE SPECIES TREE SPECIES
ウォールナット
※オイル仕上げ
Walnut
※Oil finish



ウォールナット

Walnut
PRICE PRICE
¥149,600
---
※運賃別、税込価格となります。 ※写真と実物の色味に違いが生じる場合があります ※価格・仕様など予告なく変更する場合がございます。あらかじめご了承ください。
¥149,600
---
※Prices include tax and do not include shipping charges. ※There may be a case where the color of the photograph and the real thing are different ※Price and specifications are subject to change without notice.

ダイニングテーブル

Dining Table

リビングテーブル

Living Table

スツール&ベンチ

Stool&Bench

テレビボード

TV Board

ソファ

Sofa

キャビネット

Cabinet

チェスト&シェルフ

Chest&Shelf

デスク

Desk

ベッド

Bed

ネコ家具

Cat furniture

その他

Other