Raffine
Bed
ラフィネ ベッド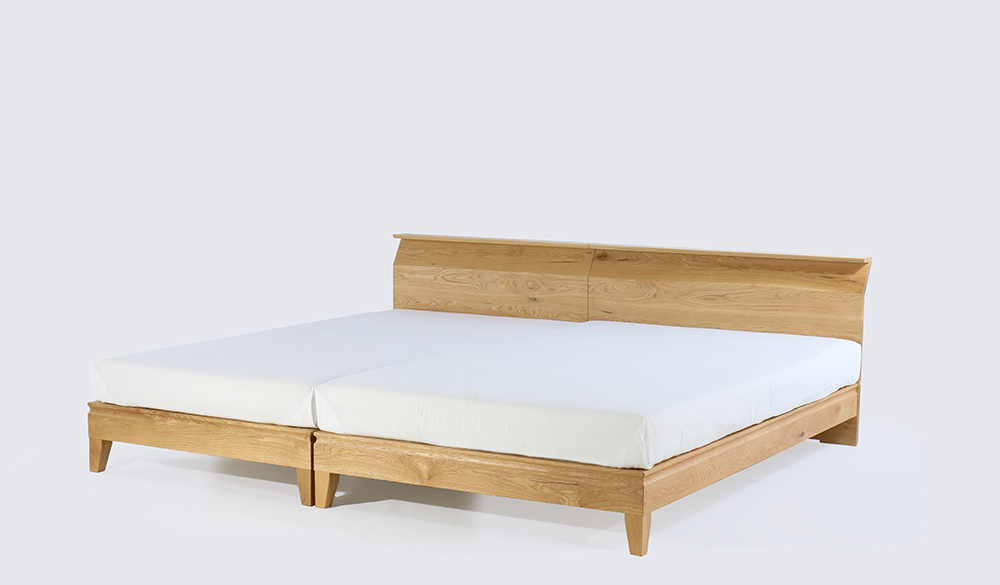 シングルからクィーンまで。寝室にこそ自然素材を。
大の字、川の字、みんなでごろりん。一日の疲れを癒す場所には、天然のやさしい素材感いっぱいのものを。無垢のおおらかな木目が、リラックスした空間を演出します。
ヘッドの桟には、メガネや読みかけの本など、お休み前のアイテムを。まくら周りが重たくなりすぎない、程よいコンパクト感が嬉しいスペース。





シングルとセミダブルをくっつけて並べると、ヘッドとフッドの木目通しが可能です。まるで一つのベッドのようにすっきりとまとまります。




通気性に優れた桐材のスノコは、湿気が溜まりがちなベッド下を清潔に保ちます。爽やかな香りで、健やかな睡眠をサポートします。

From single to queen. Natural materials are  fit in the bedroom.
You can lie down with family, side by side. A place full of natural tender texture is good for places to heal the tiredness of the day. Solid wood grain produces a relaxed space.
On the head crosspiece, you can put items before sleeping, such as eyeglasses and reading books. A reasonable compact feeling is a nice space.




Place single and semi-double beds side by side in the bedroom, the wood grain of the headboard and footboard go through. It looks like a one big bed.




A paulownia duckboard with excellent breathability keeps the under the bed where humidity tends to stay clean.With a refreshing scent, it supports healthy sleep.

SIZE SIZE
価格表を参照ください Please refer to price list.
TREE SPECIES TREE SPECIES



ウォールナット

Walnut




ハードメイプル

Hard Maple




ブラックチェリー

Blackcherry




オーク

Oak
PRICE PRICE
シングル  W990×L2050×H750 (mm)
セミダブル W1210×L2050×H750 (mm)
ダブル   W1410×L2050×H750 (mm)
クィーン  W1620×L2050×H750 (mm)
*すべて床高260(mm)
*スノコは桐材、ウレタン仕上げです

オーク / ブラックチェリー
シングル ¥171,160
セミダブル ¥199,320
ダブル ¥221,100
クイーン ¥248,820

ハードメープル / ウォールナット
シングル ¥209,220
セミダブル ¥242,440
ダブル ¥274,560
クイーン ¥301,620


---
※運賃別、税込価格となります。※写真と実物の色味に違いが生じる場合があります ※価格・仕様など予告なく変更する場合がございます。あらかじめご了承ください。
Single           W990×L2050×H750 (mm)
Semi-double  W1210×L2050×H750 (mm)
Double      W1410×L2050×H750 (mm)
Queen          W1620×L2050×H750 (mm)
*bed height 260(mm)
Oak / Blackcherry
Single ¥171,160
Semi- double ¥199,320
Double ¥221,100
Queen ¥248,820

Hardmaple / Walnut
Single ¥209,220
Semi- double ¥242,440
Double ¥274,560
Queen ¥301,620

● Please contact us for double queen size price.

---
※Prices include tax and do not include shipping charges. ※There may be a case where the color of the photograph and the real thing are different ※Price and specifications are subject to change without notice.
ダイニングテーブル

Dining Table

リビングテーブル

Living Table

スツール&ベンチ

Stool&Bench

テレビボード

TV Board

ソファ

Sofa

キャビネット

Cabinet

チェスト&シェルフ

Chest&Shelf

デスク

Desk

ベッド

Bed

ネコ家具

Cat furniture

その他

Other