HOME
I am having trouble now!
大きな声では言えないけど・・・
ママ困ってます!
Just between you and me,
" I am having trouble now!"
Oh! How come?
大切な家具が子どものアレコレで台無しに…。そんな心配を抱えるママも多いはず。
でも大丈夫。家族の家具には、キズやシミもどんとこいの工夫が施されています。
Well, Our valuable furniture may be spoiled by every little thing of the kids.
Surely, There should be many mother with such an uneasiness in the world.
But it's Okay! No worries!
That's exactly what we wanted! Well, believed it or not,
We came up with various ideas to protect family furniture from a flaw and a stain.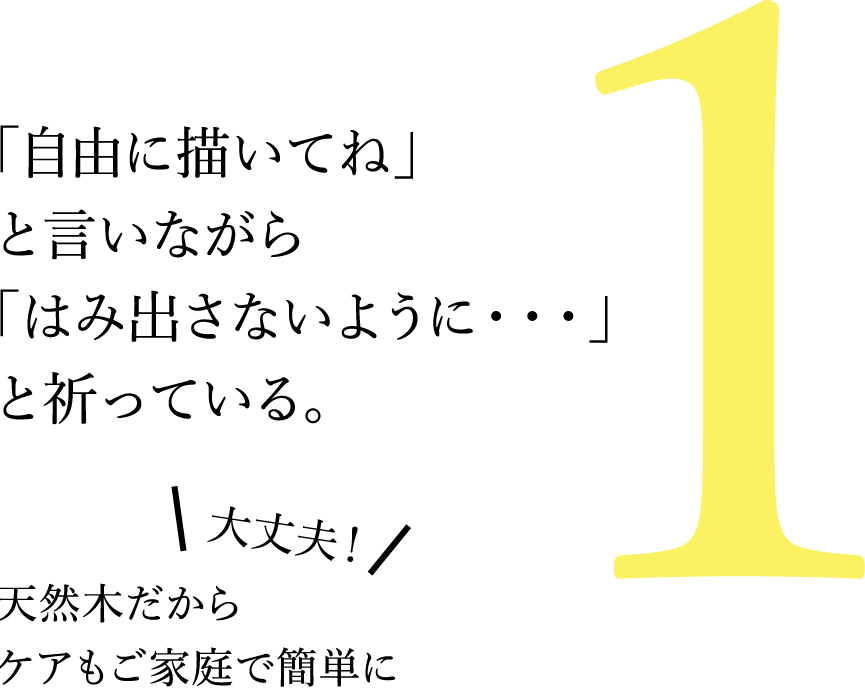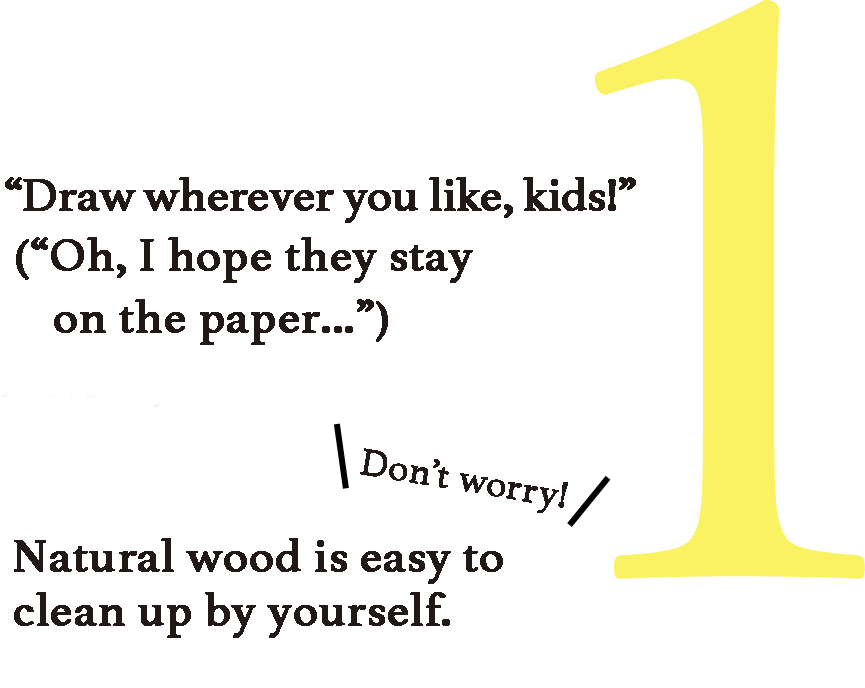 マジック跡や輪ジミなどオイル仕上げの家具に付いた軽いキズは、サンドペーパーで優しく削ってオイルを塗り直したら、ツヤと質感が戻ります。どうしてもご家庭で直せない傷がついた場合はリペアも行っています。削り直しがきくのは、天然木だからなせるワザです。
※ご家庭でのリペア方法に困った時は、
 お気軽にお問い合せください。
If you carefully scrape light scratches such as marker marks and ring stains with sandpaper, family furniture recovers its luster and texture again. In addition, If you can not fix light scratches at home by all means, we can repair it. You can scrap tiny scratches off a board at home because the material is natural wood.
*If you can be very hard to repair it,
 Please feel free to call us anytime.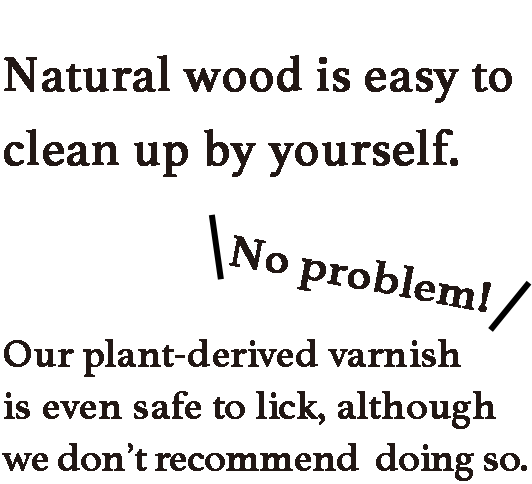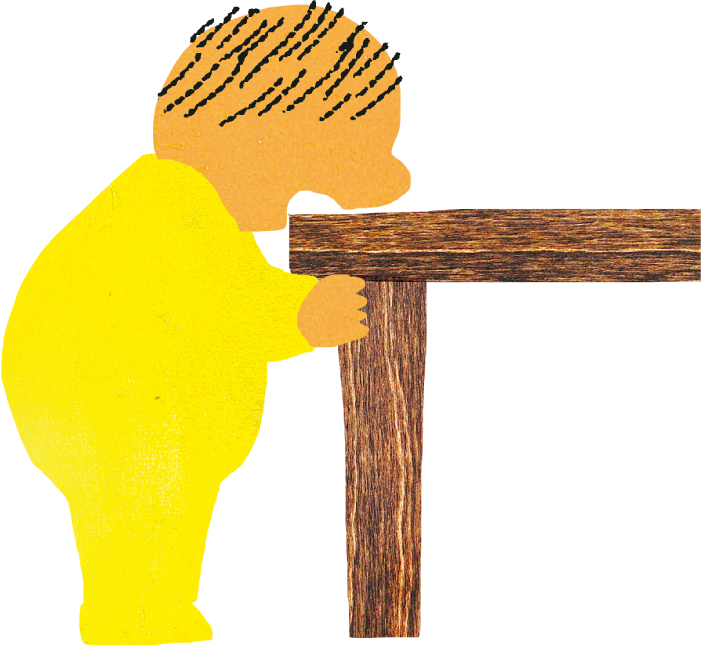 家族の家具に使用している塗料は、ひまわり油や大豆油などの植物由来を原料とするドイツ製のオイルを使用しています。ヨーロッパ玩具安全基準をクリアしていて、万が一赤ちゃんが舐めてしまっても、安心安全です。
《オスモオイル》http://osmo-edel.jp
《リボス》http://livos-jp.com
The paint using with our furniture uses "German-made" oil made from biomass such as sunflower oil and soybean oil, which satisfy "the European toy safety standards", Even if a baby licks accidentally the oil, It is safety.
《Osmo Oil》http://osmo-edel.jp
《Livos》http://livos-jp.com
ソファや椅子などの生地には、パールトーンという撥水加工を施すことが出来ます(*)。 ジュースや牛乳をこぼしても生地に染み込まず、こぼしたらさっと水拭き。シミや汚れを防ぎます。通気性が良いのも魅力です。


《パールトーン》http://pearltone.com
※オプション加工です。
 一部の商品が対象となります。
 お問い合せください。
Fabrics such as a sofa and chair can be subjected to water-repellent processing called "Pearltone". If you spill juice or milk on a sofa or chair, It will not soak into the fabric. If you spill it, wipe fabric quickly with water, you can prevent spots and dirt. And then, the fabric of water repellent processing is attractive also with good breathability.


《Pearltone》http://pearltone.com

*We have also prepared optional package consisting of specifications suitable for our customer's different machining needs. Some products come under this service.
Please contact us if you would like to know
more about this service.