Liage II
Dresser desk
リアージュII ドレッサーデスク
お気に入りのドレッサー、ときにライティングデスク。
ドライヤーなどのコード類のために配線逃しがあるので、無垢の天板の上はいつもスッキリ。ミシンやPC作業などのデスクワークスペースにも程よい広さ。引出しの手掛けもシンプルに、無垢の木目が優雅な時を感じさせます。
Favorite dresser, sometimes a writing desk.
The top board, front panel of the drawers are all solid wood. The good touch is also attractive. there are wiring misses for cords such as dryers, always top of a solid desk is refreshing. It is moderately spacious for desk work space such as sewing machine and PC work. The handling of the drawer is also simple, and the solid grain is elegant.
It sticks to the walls by missing the wiring.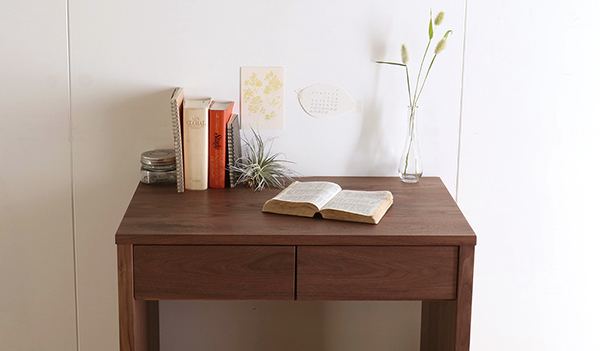 Top board is a solid wood, it feels good and calm usability.

SIZE SIZE
W700×D450×H720(mm) W700×D450×H720(mm)
TREE SPECIES TREE SPECIES
ウォールナット
※オイル仕上げ
Walnut
※Oil Finish



ウォールナット

Walnut
PRICE PRICE
¥83,160
---
※運賃別、税込価格となります。 ※写真と実物の色味に違いが生じる場合があります ※価格・仕様など予告なく変更する場合がございます。あらかじめご了承ください
¥83,160
---
※Prices include tax and do not include shipping charges. ※There may be a case where the color of the photograph and the real thing are different ※Price and specifications are subject to change without notice.
ダイニングテーブル

Dining Table

リビングテーブル

Living Table

スツール&ベンチ

Stool&Bench

テレビボード

TV Board

ソファ

Sofa

キャビネット

Cabinet

チェスト&シェルフ

Chest&Shelf

デスク

Desk

ベッド

Bed

ネコ家具

Cat furniture

その他

Other