Raffine
Cat bed
ラフィネ ネコベッド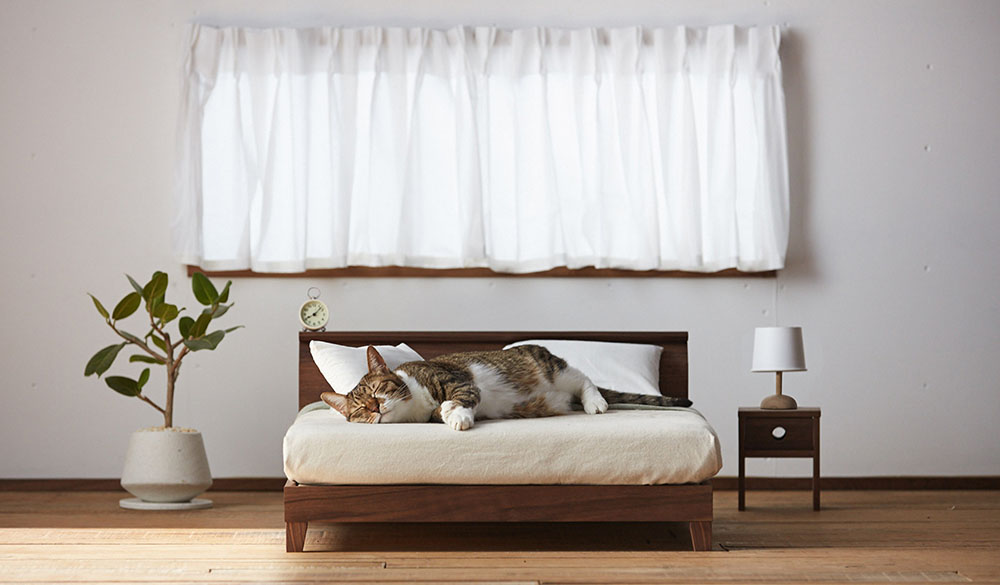 総無垢仕様のベッドをネコサイズで作りました。
無垢の上質な木目を楽しめるRaffineシリーズのベッドを、ネコが寝転ぶのにちょうど良いサイズに縮尺。通常のベッドと同様に、2台並べるとヘッドとフットの木目通しが可能です。
ヘッドの桟に小さなスペースがあり、小物をディスプレイしたり、インテリアコーディネートを楽しめます。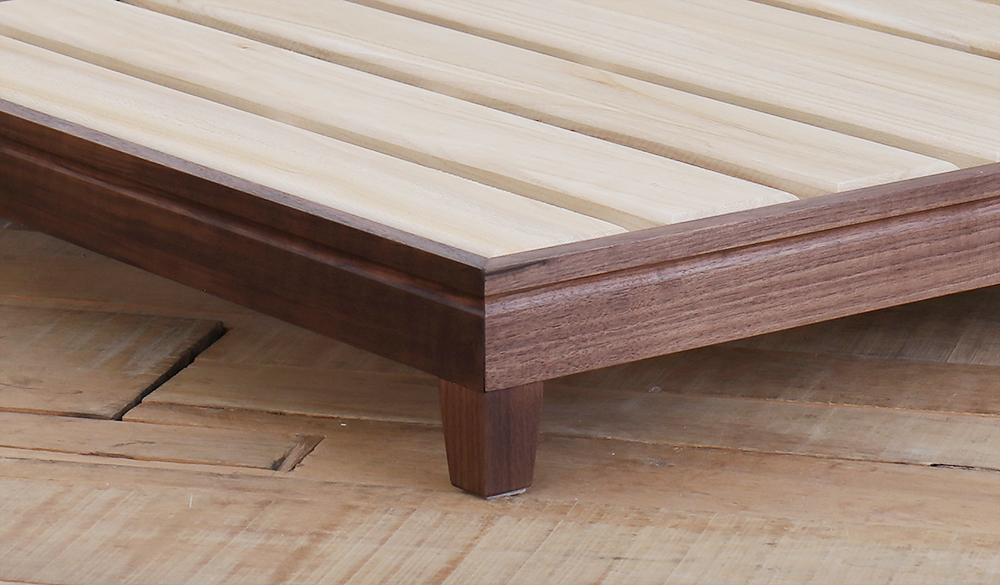 通気性に優れた桐材のスノコは、湿気が溜まりがちなベッド下を清潔に保ちます。爽やかな香りで、健やかな睡眠をサポートします。


A bed made of solid wood,  Made in cat size.
Scaled-down human-size bed made of solid wood, that you enjoy high-quality wood grain, to the right size for a cat to lie down. Authentic cat furniture that furniture artisans pay special attention to comfort. If you arrange two beds, the grain of the headboard will be connected.
There is a small space on the head pier to display small items and enjoy interior coordination.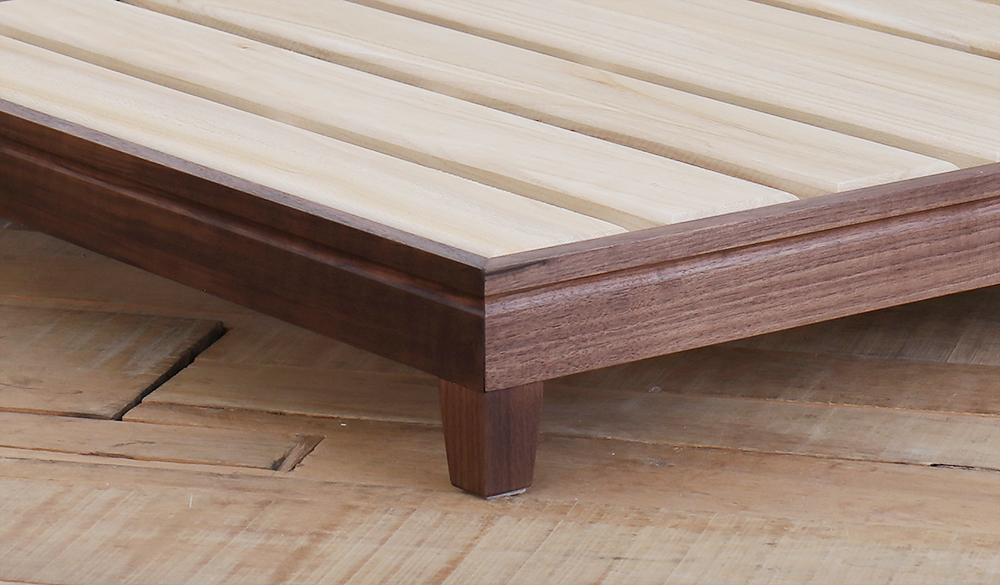 Slat made of paulownia wood, which has excellent breathability. It keeps underneath of bed clean where moisture tends to stand, and supports comfortable sleep.


At the bedside, take a night table with small drawers that can be used on both sides. You can choose the same tree species as the bed frame.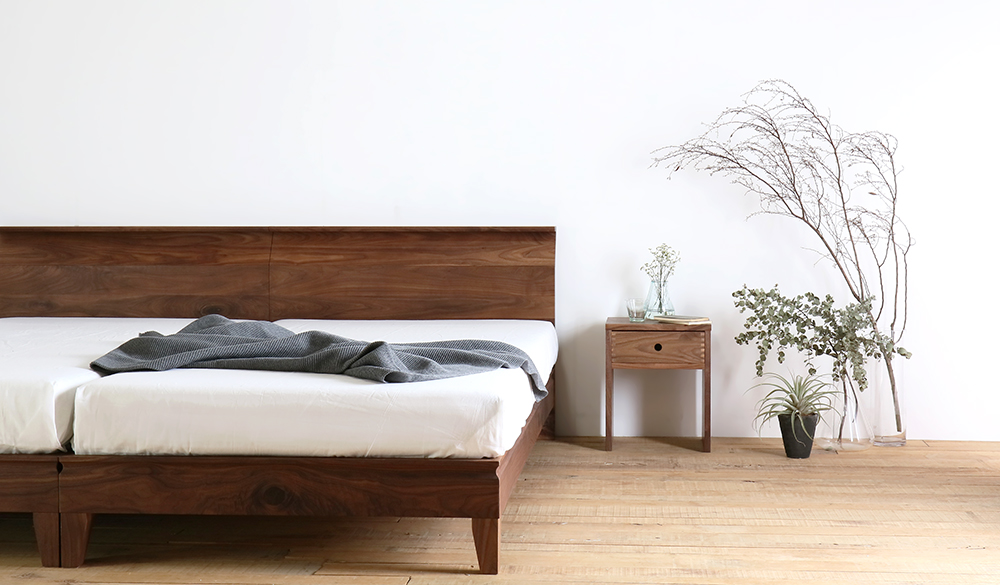 SIZE SIZE
価格表を参照ください currently translating...
TREE SPECIES TREE SPECIES
ウォールナット
ブラックチェリー
※オイル仕上げ
Walnut
Blackcherry
※Oil finish



ウォールナット

Walnut




ブラックチェリー

Blackcherry
PRICE PRICE
ベッドフレーム
W600×L750×H280 (mm)
¥121,000
※専用スノコ、マットレス、シーツ、枕2個付

ナイトテーブル
W130×D100×H156 (mm)
¥15,400


---
※運賃別、税込価格となります。※写真と実物の色味に違いが生じる場合があります ※価格・仕様など予告なく変更する場合がございます。あらかじめご了承ください。※商品に関するお問合せ、ご注文は下記フォームをご利用ください。その際、必ず受信可能なアドレスであることをご確認ください
Bed flame
W600×L750×H280 (mm)
¥121,000
*Exclusively designed mattress, 2 slats, fitted sheet, 2 pillows

Night table
W130×D100×H156 (mm)
¥15,400


---
※Prices include tax and do not include shipping charges. ※There may be a case where the color of the photograph and the real thing are different ※Price and specifications are subject to change without notice.
ダイニングテーブル

Dining Table

リビングテーブル

Living Table

スツール&ベンチ

Stool&Bench

テレビボード

TV Board

ソファ

Sofa

キャビネット

Cabinet

チェスト&シェルフ

Chest&Shelf

デスク

Desk

ベッド

Bed

ネコ家具

Cat furniture

その他

Other